We love taking photos. Wefies. Selfies. You name it. But if you've tried to use a smartphone camera in less than optimal lighting conditions, you'll find your pictures poor and unworthy of that coveted Facebook post. A problem we often face when taking a selfie is that besides having a poor front-facing camera on a typical smartphone, there isn't a front-facing LED flash! That means unflattering and poorly-lit selfies.
The reason is that complementary metal-oxide semiconductor (CMOS) photo-sensors used to fit in the smaller confines of a smartphone generally have poor performance in low-light conditions. The difference is noticeable if you compare the quality of photos taken with a DSLR versus a smartphone. The smaller sensors deployed in a smartphone have less area to collect light. A larger DSLR will accommodate a larger sensor, and, in turn, a larger sensor will collect more light to produce a better image. This is why the number of pixels doesn't matter. A camera with a large or more-sensitive sensor will produce superior results over any smartphone with a small sensor, even if both tout the same number of megapixels.
With a small sensor, the pixels can't capture as much light, so a smartphone camera will produce images that have less vibrant colours than a DSLR. A camera with a smaller sensor will also produce images with more noise, especially at high ISO. Of course, the trade-off in image quality means more convenience. We don't always carry a bulky DSLR wherever we go, but the ubiquitous smartphone is now an extension of our modern lives. How can we get better pictures in poor lighting conditions without modifying our smartphones or lugging a DSLR everywhere?
The solution? Add more light to your scene or subject; behold, Portable light prototyping for smartphone photography.
There are many pocketable lighting options which promise smartphone-friendly illumination. They range from essential LED lights to more sophisticated gizmos which your smartphone can control.
The Pocket Spotlight is the simplest of the lot as a simple array of 32 LEDs. Gizmag gave it a positive review, and it does what it's advertised for US$30 – plug into your smartphone for extra light.
The Nova and iblazr2, on the other hand, have more features. The Nova Bluetooth iPhone flash is a credit card-shaped Bluetooth-controlled LED flash consisting of 40 warm and cool LEDs. A notable feature is that temperature and brightness can be controlled from the free Nova Camera app, which is especially useful for shooting objects with a warmer or cooler colour tone. It's compatible with iPhones, from the iPhone 4s onwards. Up to 10 units can be simultaneously triggered for more advanced lighting setups, given its slim, compact and pocket-friendly design with colour temperature adjustments.
The iblazr is also an LED flash and constant light for your smartphone, only this time it's not iPhone. The small LED unit attaches to the headphone socket of your iOS (7+), Android (4.0 or higher) and Windows Phone (8. x) smartphone. Like the Nova, the iblazr connects to your phone via Bluetooth, and the accompanying app can adjust brightness and sync with the camera shutter on the device. It is already in its second iteration, with the original retailing for US$40. The new iblazr two is going for US$59.90 and boasts a variable colour temperature from 3200K (warm) to 5600K (excellent), which can be adjusted in the accompanying Spotlight app or via a touch sensor on the rear of the device. It offers a very similar performance to the Nova.
The light strip casing is a notable mention that attempts to solve the problem by integrating a ring-light-like construction into the phone's casing. Unfortunately, it means the product obsolesces when the smartphone (iPhone5/5S) is replaced with a newer model. The maker's Kickstarter campaign was unsuccessful, and lessons can be learned here.
| | | | | |
| --- | --- | --- | --- | --- |
|   | Photojojo's Pocket Spotlight | Nova Bluetooth flash | iblazr 2 | Lightstrap case |
| Dual-light temperatures | No | Yes | Yes | No |
| Flood lamp | Yes | No | Yes | Yes |
| Bluetooth control | No | Yes | Yes | No |
| All smartphones | Yes | No | No | No |
| Cost / availability | US$30 | US$59.99 | US$59.99 | No |
All these external lights have one thing in common; they offer diffused lighting to illuminate a subject and are typically targeted at smartphone photography. Nova and iblazr offer nifty features such as Bluetooth connectivity and light temperature control, giving portrait shots warmer tones.
Colour temperature
For lighting frequently used for portrait shots on faces (for example, selfies and wefies), it is essential to have a feature for selective temperature colour for your light source. Nova and iblazr offer this feature. A helpful article on the effects of light temperatures on face shots is covered in an article here.
What's still lacking?
With that said, USD$60 for a simple light source can prove a tad pricey for the average user or teenager, especially when he has spent his savings on the latest iPhone 6 Plus.
A flash can be surprisingly harsh (especially on the iPhone) and momentary. The Pocket Spotlight's constant light acts as a floodlight, allowing a user to illuminate a scene where focus and exposure could be adjusted before the shot. Still, it doesn't have dual-tone colour temperatures for warmer lighting. The Nova is an excellent bet, but it is currently compatible with iOS7 or later and has only flash functionality, while iblazr has 4 LEDs (just two more than an iPhone 6) which doesn't add all that much light.
We decided to put together a DIY light prototype with minimal hassle and just spare parts around the lab; a quick DIY lighting source can be put together. Here's what we did:
For power, a spare USB power bank lying around would do nicely, giving a reliable, regulated 5V power source up to 2A, which allows 10W of power to be drawn since the LEDs we've selected are power-hungry.
Rummaging through the storage for LEDs revealed a few versatile, low-cost chip-on-board (COB) LED modules, in which multiple LED elements are directly mounted on a substrate and encased in epoxy. COB case-less LEDs enable a much denser LED array of light compared with traditional surface-mounted device LEDs. More on COB-type LEDs here. The LED module selected is a 6-7V, 3-Watt COB LED Strip outputting 250 lumens of 3500K warm light and another strip providing 300 lumens of 6000K cool white light. Since the LEDs are rated at 6-7V, higher than the 5V of the power bank, we used an LM2577S-based DC-DC step-up voltage regulator to boost the voltage to about 6.5 volts.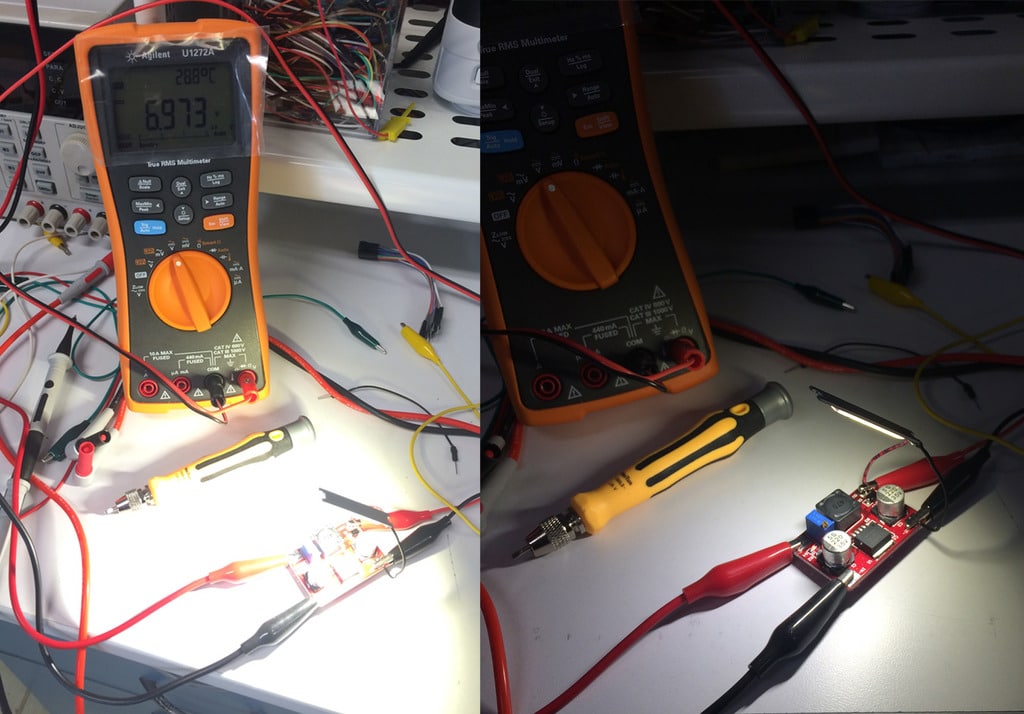 I am testing the DC-DC boost converter from a 5V power source.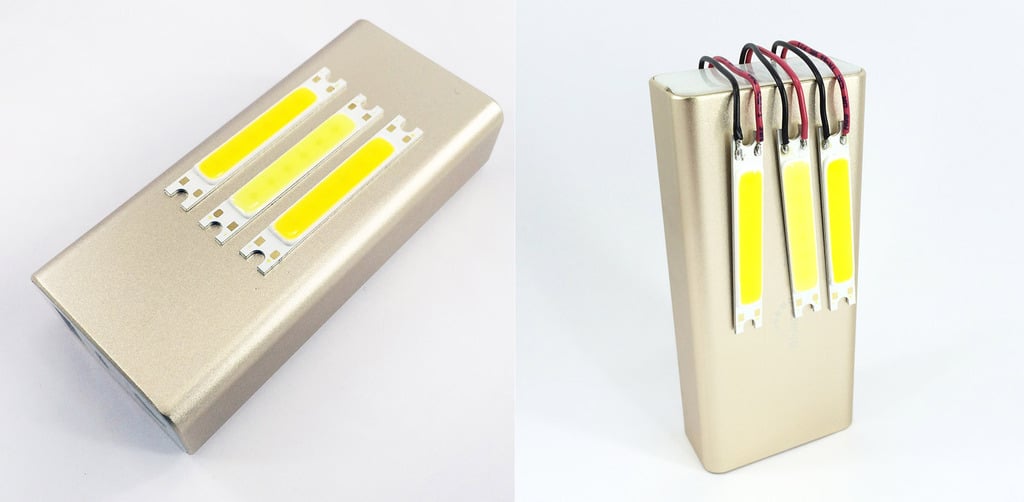 The metallic casing of the power bank would conveniently act as a heat sink for the LEDs.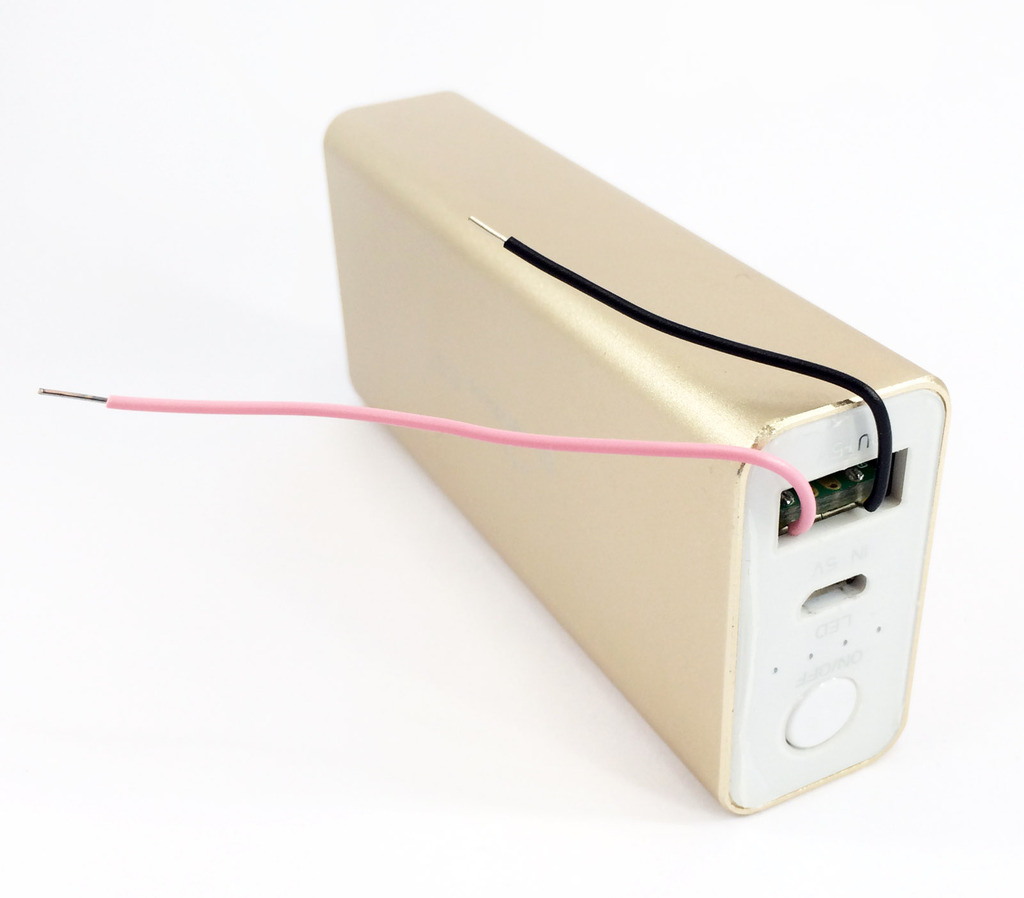 Power is drawn directly from the USB port using a slim printed circuit board (PCB).

Soldering all the wires together with two switches, one for ON/OFF, the other a selector between the two LED colour temperatures. Everything is held down by glue.

The LEDs are mounted with some thermal paste onto the power bank and epoxied down.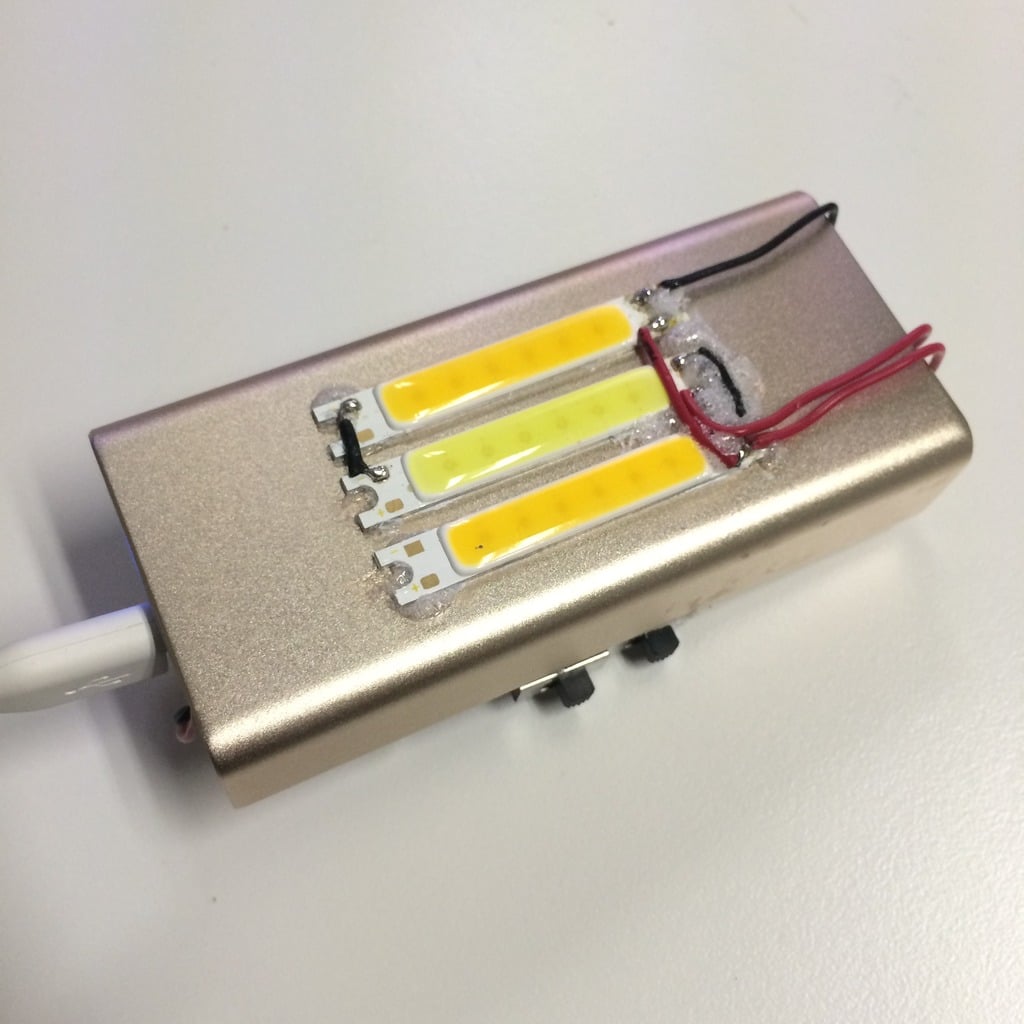 And she lives! It wasn't much work, and the whole ghetto setup works just fine.

It gets a little warm to touch after a while, so we wrapped it up in faux leather.


A couple of hours later, all ghetto, DIY and dandy!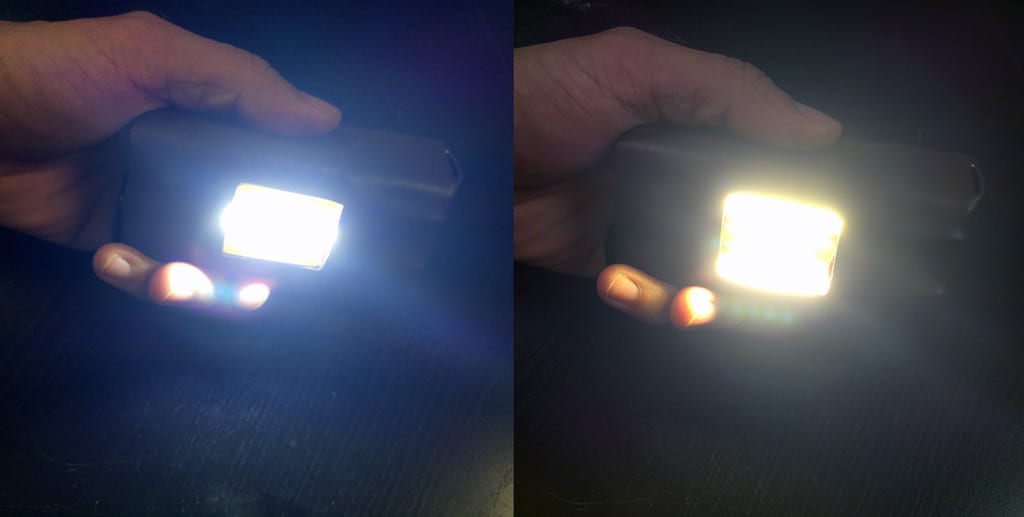 Works great!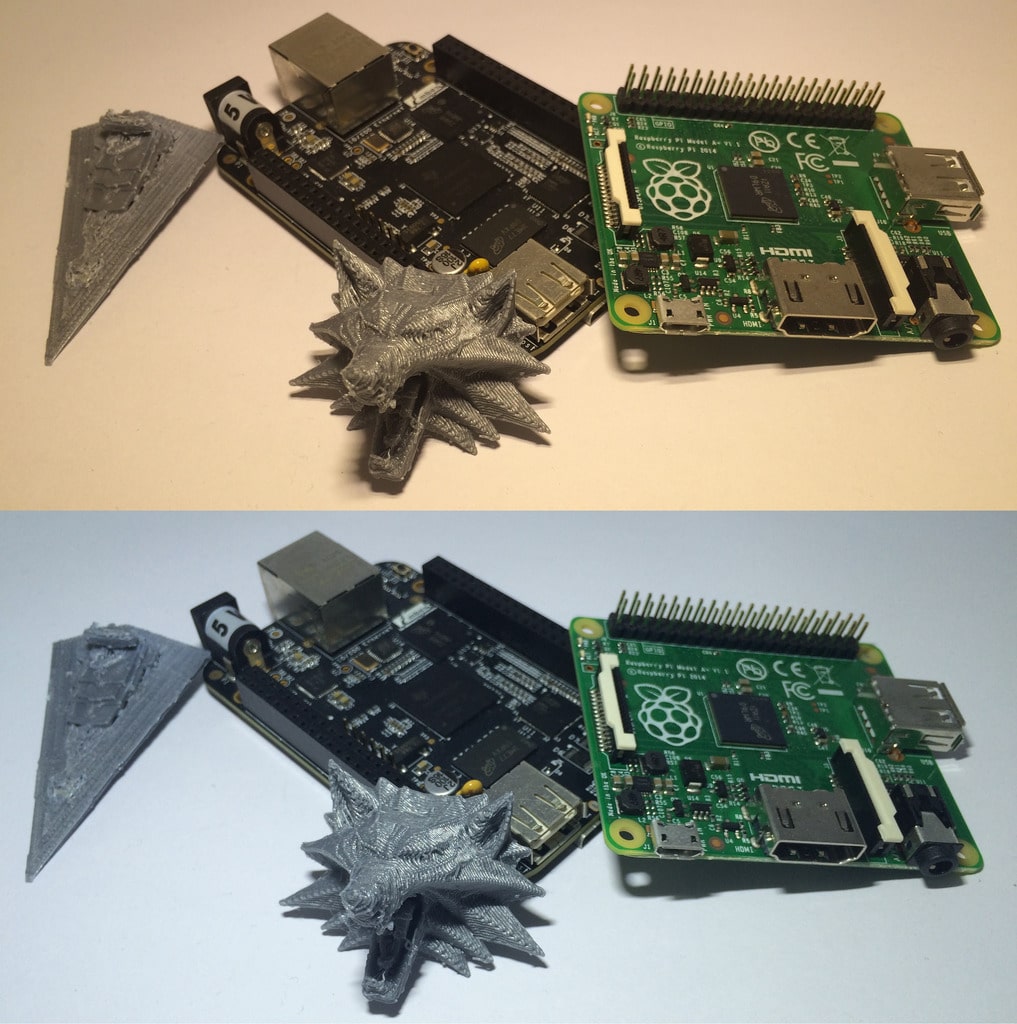 A couple of test shots of random stuff lying around the lab.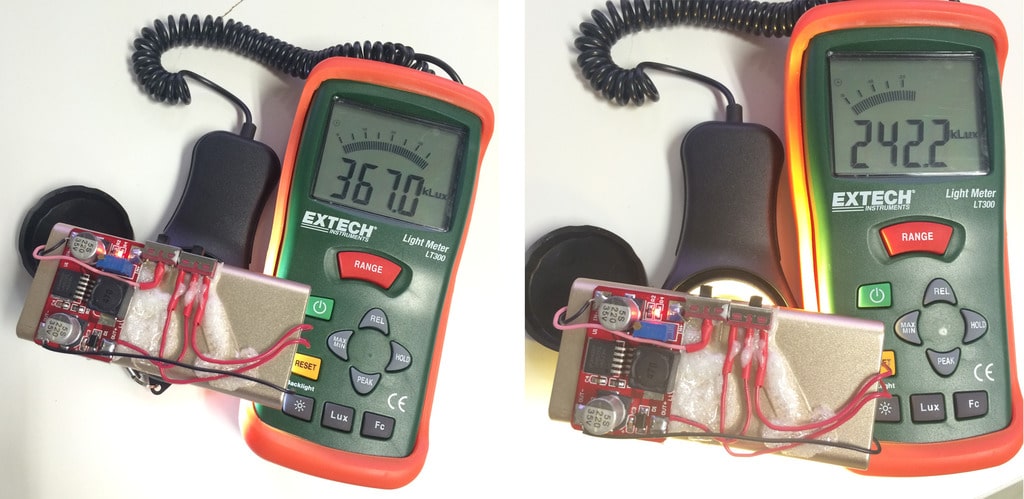 Let's see how our DIY light source fares against LED flashes of smartphones. An Apple iPhone 5S outputs a mere 60 Klux, the iPhone6 Plus at 67 Klux and an HTC One about 107 Klux.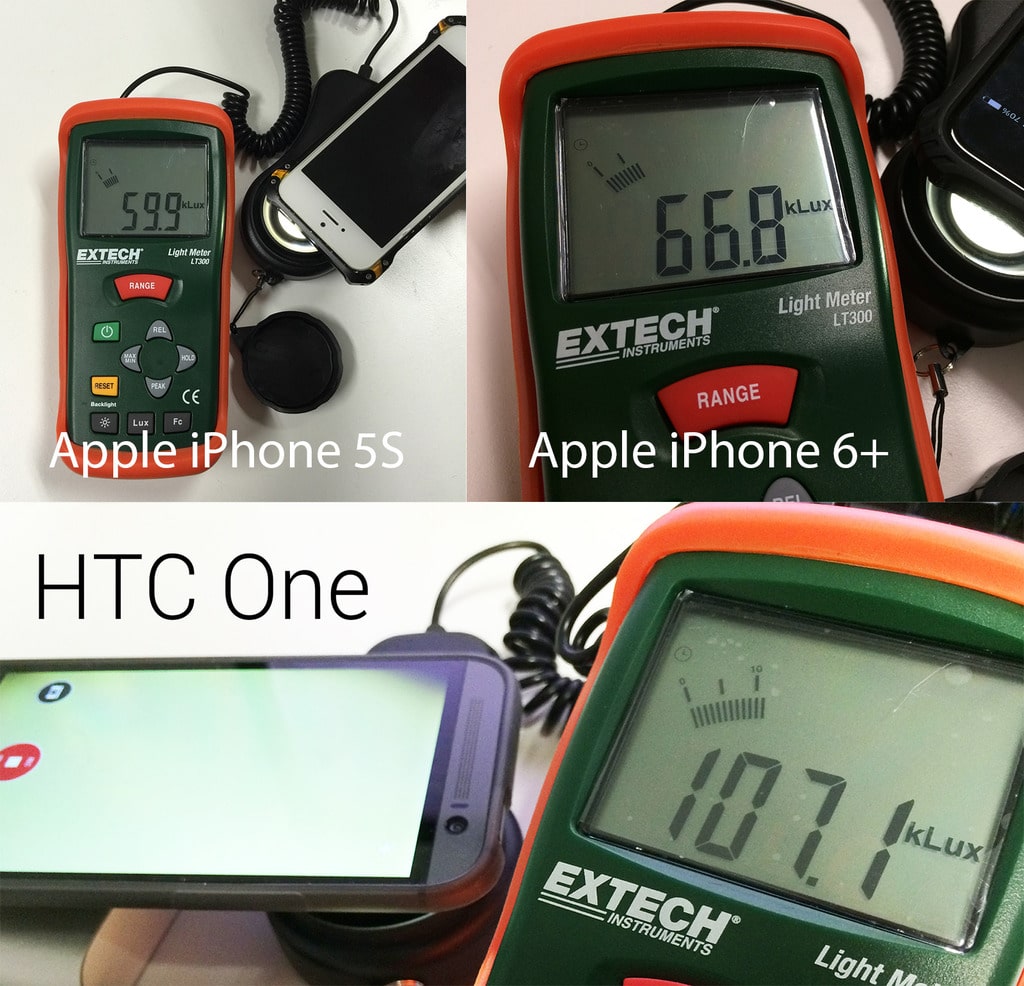 Our DIY light blows the darkness away! One single cool-white COB-LED gives us approximately 360 Klux of light, while two warm-white COB LEDs output ~240 Klux of light. That's three to four times brighter!
Our DIY, rapidly-made, simple dual-colour temperature (3000K, warm) and (6500K, excellent) light source for off-camera photography! It doubles nicely as a portable lamp, too, to charge. Simply plug in any micro-USB cable 5V USB power source. Add light to your photos anytime, anywhere. All in all, the development cost of this project is about US$15 for a power bank, US$3 for a DC-DC regulator module, US$2/COB LED, $0.10 switches wires and miscellaneous, which works out to be about 20 dollars project.
Not as low-cost as we would have liked, but it was fun, and actual BOM could be further decreased without all that bulk from the parts we used. A $10-$15 price for such a gadget could be very feasible.
Nevertheless, we're now the proud owners of a nifty dual-tone light source for all the selfies and wefies we will take.
Drop us a comment if you like this post, and if you're interested in obtaining a portable light source of your own, we would be happy to run a small production run of such light gadgets with enough interest.
Build the Future