Overview
We have already done a
teardown on the LG watch R
, and today, we will tear down the Sun S2 to see what lessons we can glean from this low-cost smartwatch from China. A review on the watch has already been
done
, and we are not making a head-on comparison with the LG watch R. It will be interesting to learn the design and manufacturing differences between the two that brought about such a big price difference. We will look at the following:
Introduction
Tech circles were recently abuzz with announcements of new smartwatch releases, such as the new
Samsung Gear S2
and
Huawei's Watch
. Each smartwatch had its features
benchmarked against the famous Apple watch
. However exciting the new smartwatches are, consumers often forget that the bulk of global electronics manufacturing is still centred in China, with massive manufacturing infrastructures capable of producing electronic wearable clones en masse. Although the Huaqiangbei district in Shenzhen, Guangdong province, is notorious for counterfeit versions of leading electronics brands, we increasingly see products with additional features not found in the original devices. The parts are - of course - targeted at the growing segment of cost-conscious and tech-savvy consumers.
Apple watches knock-offs were available for sale the following day after the timepiece was unveiled
. It is a fresh reminder that Chinese engineers and factories are more than capable of churning out cheaper alternatives and producing fakes at
turn-around times measured in weeks instead of months
. These are propelled by consumers' insatiable appetite for the latest technologies. The market has seen trends where consumers do not necessarily desire the best or latest gadgets but what's more accessible to them in terms of affordability and availability. Such trends explain Xiaomi's meteoric rise in the market of
wearables
and
smartphones
, surging past incumbent market leaders such as Fitbit and HTC.
In our usual trawl for the latest gadget bites, we chanced upon the
No.1 Sun S2 smartwatch
(above). The No.1 Sun S2 smartwatch is much like the LG Watch R as they both have round screens, but the similarity ends there. The Sun S2 costs S$80 (US$55), about one-fifth the cost of an LG Watch R, which initially retailed at S$399. That's
five
No.1 Sun S2 smartwatches for the price of
one
LG Watch R.
The Charging Plate and base cover
A very nicely constructed magnetic charging base that even features a speaker duct!
No surprises here, the base came off quickly, revealing the expected optical photoplethysmograph (PPG) heart-rate sensor from
Taiwanese
PixArt PAH8001
featuring an integrated pixel array plus a green LED sensor in a 3 x 5mm SMD package with a low power consumption of 1.5mA. The complete datasheet is available
here
.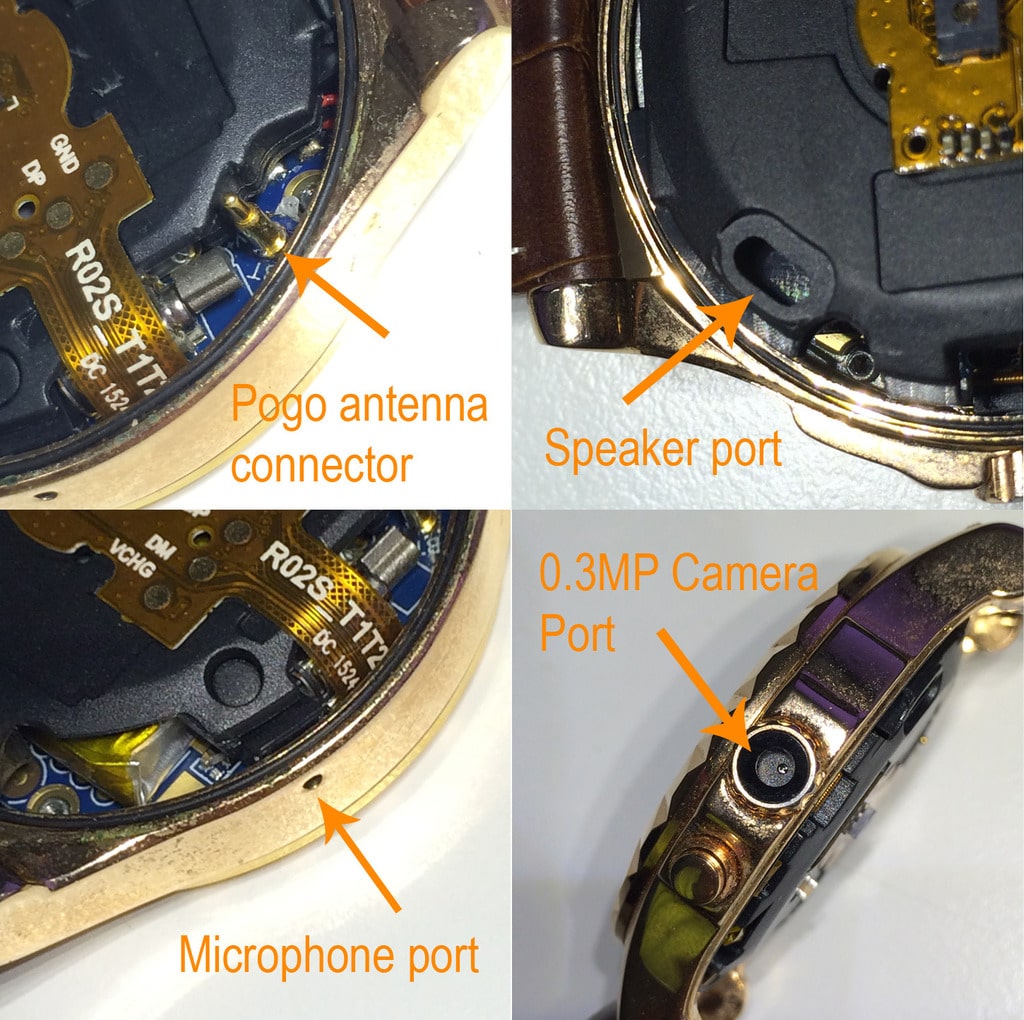 Not included in the LG watch R is an onboard camera! The specifications state a 0.3 megapix0.3-megapixels place where a usual adjustment crown would have been in a typical mechanically-winded watch. A possible inspiration from the Samsung Gear 2's camera? Still a bona fide spy watch! The microphone port is found on the left side of the watch, with the speaker placed on the opposite right, a well-thought layout, so the microphone will not pick up feedback from the speaker.
The designers went through the trouble of designing a clear window separator into the base cover for the heart-rate sensor and a cover mesh grill for the speaker, no shoddy slap-together work here.
Audio Speakers
The orange arrows in the above picture show the design of the acoustic channel. The plastic brace was pried away to reveal a hefty speaker driver indeed! Not your typical piezoelectric buzzers found in a watch but a driven membrane speaker. The plastic housing appears to have machined-milled markings typical of a Computer Numerical Control (CNCed)-finish. Could this piece have been a piece of moulded plastic that went through machining post-moulding? The housing also contains a nicely designed acoustic channel that speeds the sound away from the speaker to the watch's exterior—a charming engineering design.
Battery and Microphone
With the plastic brace out of the way, a standard 350mAh lithium polymer battery pack is soldered directly to the main printed circuit board (PCB). It appears that
JST footprints
were designed for attaching batteries. Still, they opted to solder the battery onto bare pads instead, a labour-intensive manufacturing process but one which saves the cost of an additional two components (male and female connectors) and allows generic battery leads to be used.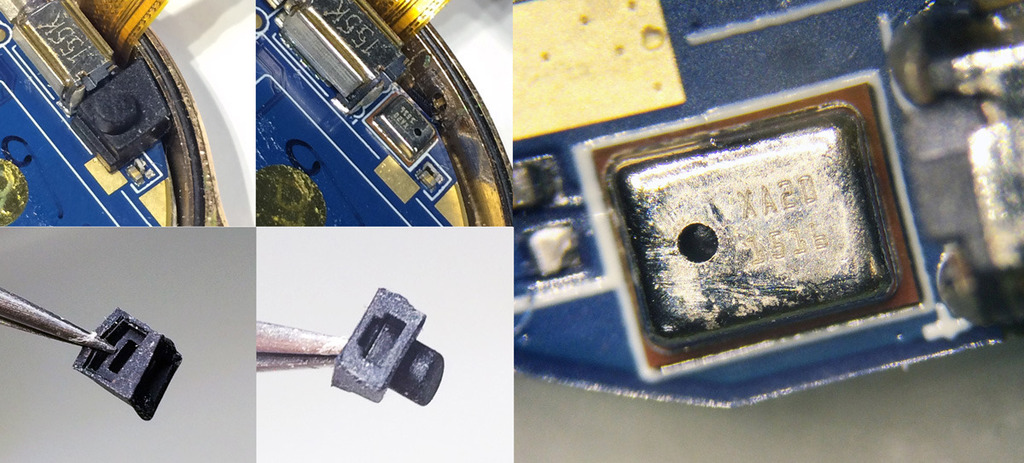 We couldn't find information on the "XA2D 1516" markings of the microphone; it is likely another low-cost analogue microphone that you can easily replace with alternative components. What was more interesting was the little rubber duct that ducts the microphone's channel to the watch casing's exterior. It's a custom-moulded part to add water resistance to the watch. It seems that the design of this watch isn't the stereotypical shoddiness of Chinese engineering, which was pleasant and unexpected.
Mainboard PCB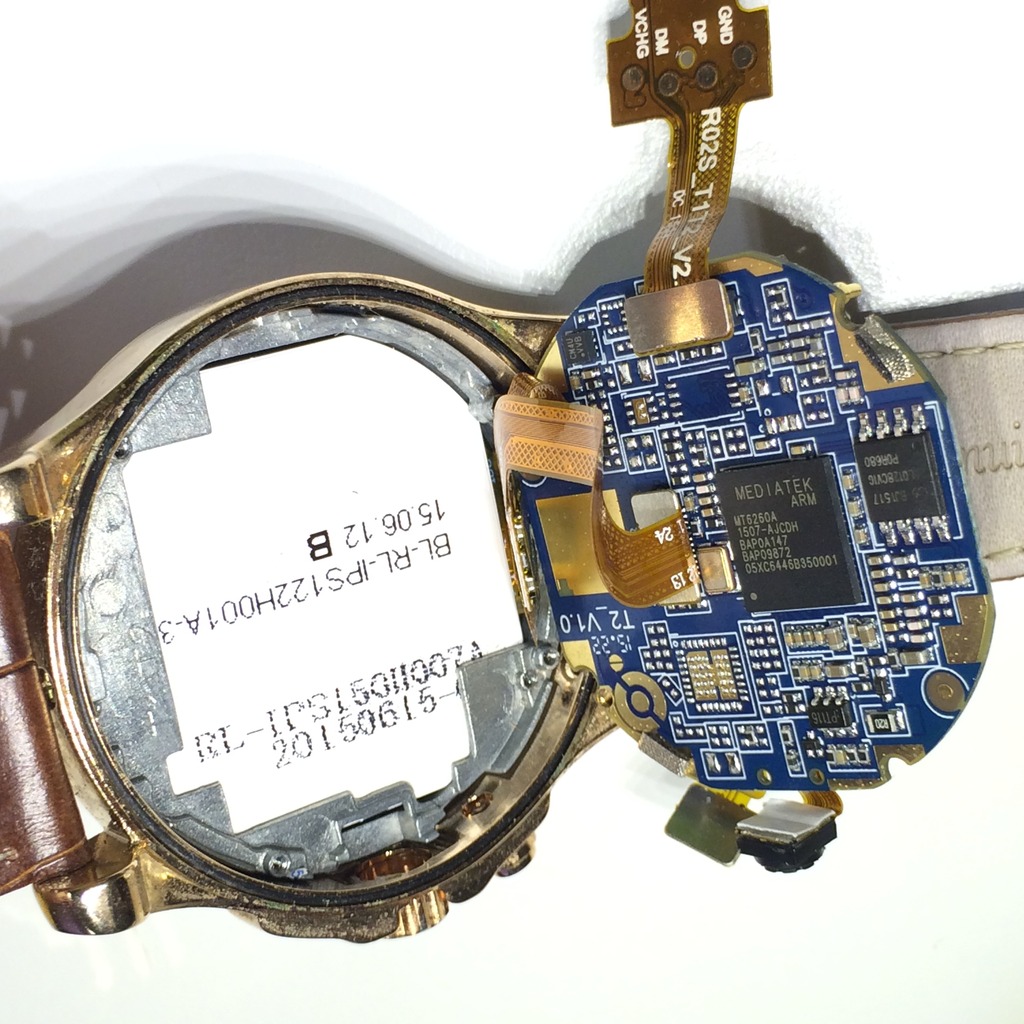 The main PCB is connected to the screen via two flexible Hirose mezzanine connectors, likely for the touchscreen controller and the graphics interface to the screen itself.
The freed flex PCB houses the
PixArt PAH8001
heart-rate sensor can now be studied. It's not unexpected exposed pads for USB connectivity (GND, Data+, Data- and VCHG) that will be connected to the exterior of the base cover via the pogo pins, accompanied by the usual passive decoupling capacitors and a metal stiffener for the 30-pin a
Hirose DF37B-30DS-0.4V
mezzanine 0.4mm pitch receptacle. Curiously, over half the connector of the 30-pin is not connected, so design-wise, a smaller connector could have been used to save real estate; such an approach could be to future-proof the design and allow more peripherals to be connected.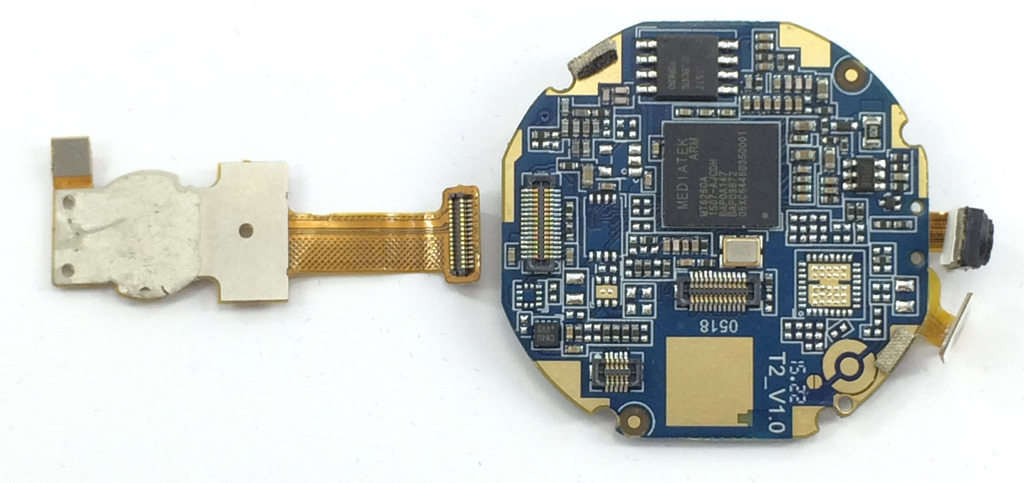 With the main PCB free, we can see that a large portion of real estate is entirely unpopulated; the silkscreen to indicates that it's version 1.0. A likely explanation is that future models of this watch will be populated with other components - GPS? GSM-phone calling features? - To add additional functionality. The design of the PCB certainly seems capable of doing so.
We can now appreciate the layout, how scarcely populated the entire PCB is and how capable the central MCU, which is a
Mediatek MT6260 SoC 32-bit microcontroller
, is. The central MCU has the following features:
Based on the ARM7EJ-S core
FM radio 76-108Mhz
Bluetooth 3.0 + EDR
LCD or WiFi interface
MPEG-4/H.263 codec encoder for video recording
HE-AAC audio codec with PCM playback and recording
GSM/GPRS/EDGE connectivity
Built-in Li-ion battery charger and 14 LDOs for various onboard peripherals
This is one full-featured MCU with built-in power management, WiFi/Bluetooth and GSM, and audio/video capabilities! WiFi and GSM are not featured in this model, but there's no doubt that future models will use the same MCU and PCB layout. Populated with the necessary support components, those features will become available in the later models. The most significant component is the MT6260 SoC MCU, flanked by a
Gigadevice
Flash Memory 25LQ128YIG chip, a
128 Mbit 133Mhz NOR flash memory
(datasheet
here
) and a
TXC T260 crystal series
from TXC Corp. Impressive, just four components on the top layer!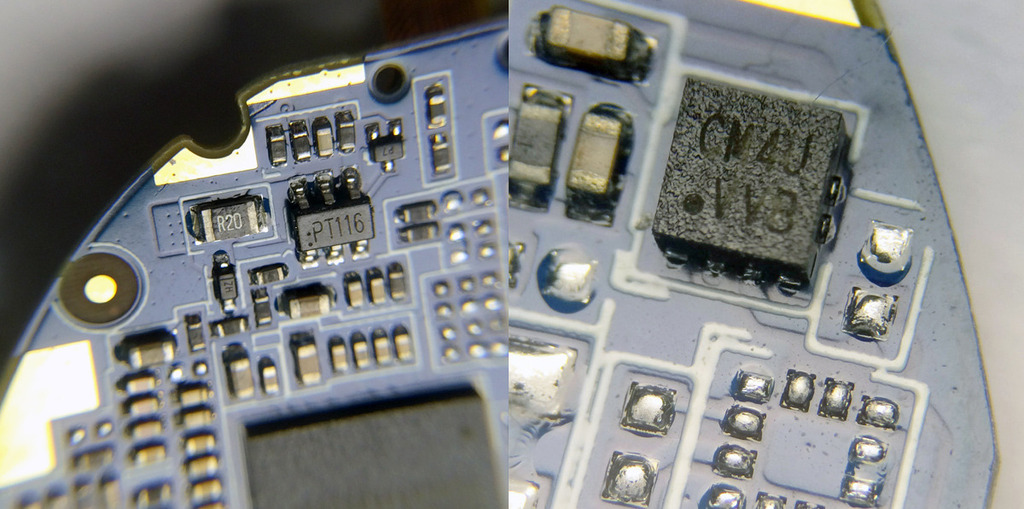 We also found a PT116 SOT23-6 charging chip, possibly a current protection regulator for the battery. The routing from the battery to the PT116 certainly appears to fulfil that function since the Mediatek MT6260 has a built-in lithium-ion battery charge controller. An unknown "CM4U VV3" chip is also observed, which is likely the accelerometer sensor.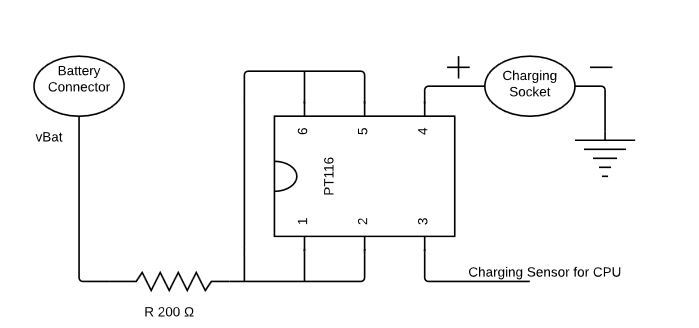 A quick schematic of the PT116 battery charger/protector. Moving onto the bottom layer. Besides the camera, membrane button as well as an Eccentric Rotating Mass (ERM) vibrator and a microphone, there are no other components populating the bottom of the PCB.
The camera module is a YUV422-format type 22-pin that is soldered directly onto the PCB with a resolution of 640x480 pixels (0.3 megapixels). The YUV colour encoding scheme assigns both brightness and colour values to each pixel. In 'YUV,' 'Y' represents the brightness or 'luma' value; and 'UV' represents the colour or 'chroma' values. In contrast, the values of the RGB encoding scheme represent the intensities of red, green and blue channels in each pixel. The YUV422 format cameras usually use 14 to 20-pin assignments and it's common to see such VGA-resolution camera modules support YUV422 or RGB565 data output formats. This module is no different; read more about YUV-type formats
here
and
here
. Space is saved by soldering the module directly to the PCB at the cost of ease of replacement.
One of the other two spaces on the PCB appears to be the footprint of a microSD card socket. We found that it fits a microSD card very nicely could it be expansion-able memory storage? Adjacent to the space is likely space for a SIM card for GSM-enabled models of this watch.
The Display and touchscreen controller
From our tests, the screen is satisfactorily responsive and the graphics are crisp and sharp. The BL-RL-IPS122H001A-3 screen appears to be a
Hyundai SW122DC
IPS screen from Hong Kong that was manufactured on the 12th of June 2015. Specifications include:
262K colours
Resolution: 240(H) X 204(V)
1:1000 contrast ratio
0.7mm thick Corning glass cover
Interface: SPI 4 wire via a Hirose DF37B-24DS-0.4V Mezzanine 0.4mm pitch 24-way receptacle
The capacitive touch controller is a
Mstar Semiconductor
MSG22S
that supports screen sizes up to 3.2" and an X, Y resolution of up to 2048x2048 pixels. The uQFN-32 chip on the flex PCB has an operating voltage of 2.8V ~ 3.3V and appears to have embedded flash memory & SRAM via an I2C slave interface. It is able to transfer data at up to 400Kb/s through the 0.4mm 10-way connector. The MSG22S also has a built-in 1.2V LDO with programmable interrupt (INT) levels: 1.2V, 1.5V, 1.8V, and V
DD
. This beefy little chip also touts automatic background capacitance tracking with a 14-bit Analog-To-Digital Converter (ADC) with a 120Hz update rate! That allows it to support wet-finger tracking with enhanced immunity to RF interference and AC charger noise which plagues many other capacitive touch controllers. Several useful articles on EMI-rejection methods in touchscreen designs are discussed
here
and
here
. Up until 2011, US companies - including
Atmel
,
STMicroelectronics
, Synaptics, and Cypress - had dominated the capacitive touch controller IC market. But as the global demand for smartphones and tablet PCs soars, Asian companies such as
FocalTech
,
Elotouch
,
Goodix
and
MStar Semiconductor
from China and Taiwan, while
Melfas
,
Zinitix
and
Imagis Technology
are emerging as the leading vendors in South Korea. More options are now available to developers! Goodix, formally known as Shenzhen Huiding Technology, provides touchscreen controllers to major clients include Samsung Display Corp, JDI, Huawei, Toshiba, Asus, Lenovo, Acer, Nokia and many other giants in the tech industry and has even recently challenged Synaptics' touchscreen controller
patents!
Juicier reading
here
.
Comparison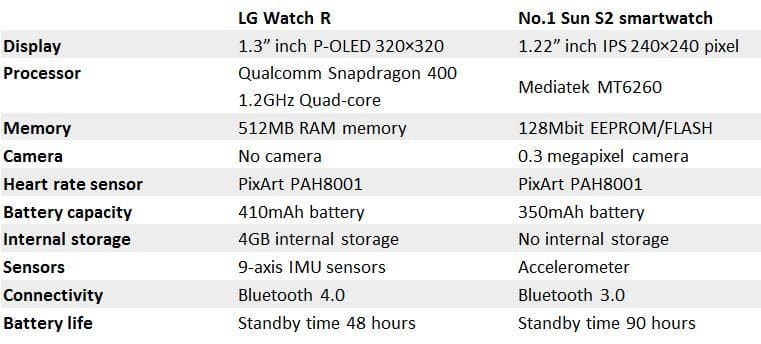 If you compare these two smartwatches it becomes clear that the winner based on specifications would be the LG Watch R. But at one-fifth the cost, the No.1 Sun S2 watch does give consumers a fully featured smartwatch that meets most expectations with similar specifications and functions. Considerable cost advantage and availability is a major contributing factors when it comes to consumer purchase decisions.
Conclusion
What have we learnt? The system is obviously designed to be more capable but possibly crippled or designed for future upgradability so that an inexpensive model in the manufacturer's line is first introduced to gain market traction before the full-featured flagship model is released to the market. This is a good business strategy in terms of engineering and marketing – such an approach reduces the number of component variants and allows different models to be released based on the same hardware. The need to retool a manufacturing line or procure new components for a separate model is reduced whilst giving consumers the
illusion of choice
. Yet, between sales of thousands of units versus Apple's millions, Chinese brands will need to improve their standing amongst consumers if a major global market share is to be captured. The No.1 Sun S2 watch is packed with Chinese silicon. The MCU, memory, sensors and controllers can be manufactured at a fraction of the cost of its Western equivalent components, and with the Chinese capable of producing tens of thousands of such devices, consumer choices may well soon be skewed in the other direction of low-cost, functional and relatively fashionable wearable devices, a business direction that has enabled certain Chinese companies to enjoy
massive growth
in recent years. Have a platform you want to learn about? We have IPC-CID+ and electronics professionals on our team and we provide in-depth teardown and investigative report services. Build the Future!