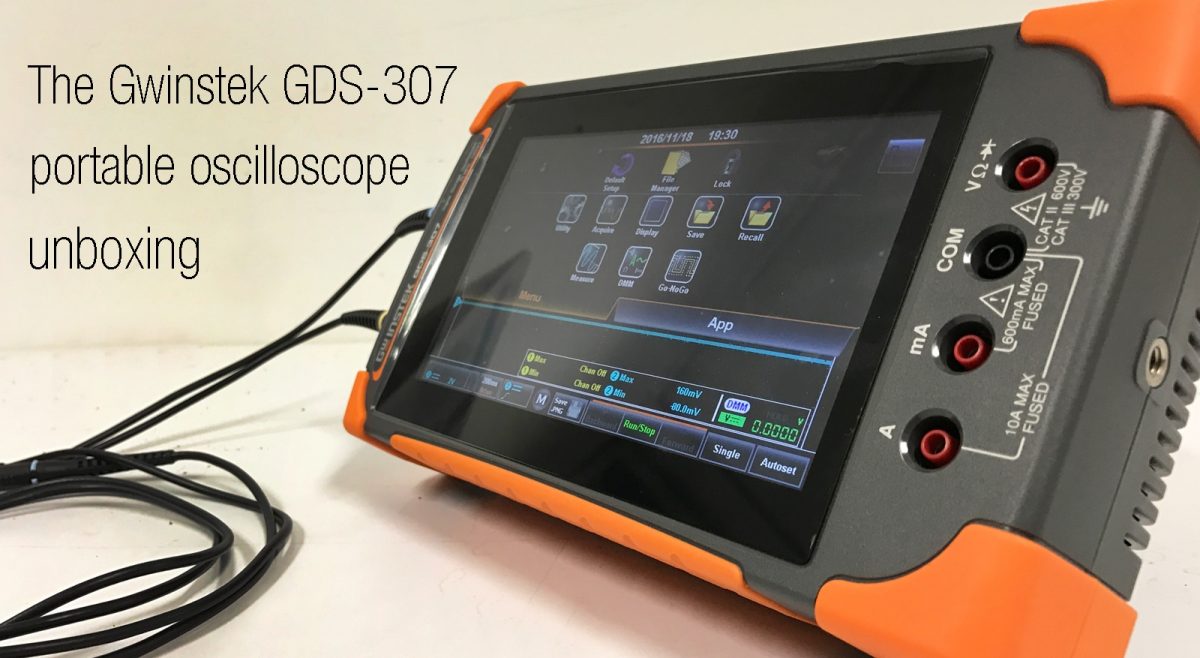 From time to time, our engineers hit the roads to deploy technology, and to meet those needs, the Gwinstek GDS-307 portable oscilloscope was procured. Our trusty Agilent oscilloscopes in the lab cost about six thousand dollars but aren't portable at all. Our unit was purchased from Element14 and features a 7" capacitive full touchscreen which can be positioned in portrait and landscape orientations. This entry is not an endorsement advertisement but rather to enable field engineers with an option for a portable mobile oscilloscope.
For mobile portability, it's got a built-in battery and a myriad of features such as a built-in digital multimeter (DMM) and trend-plot/temperature measurement features:
200/100/70MHz Bandwidth Selections, Two Input Channels
1GSa/s Maximum Sample Rate
Maximum 5M Memory Depth Per Channel
7" 800 x 480 Full Touch Panel Capacitive LCD Multi-Point Control, Landscape and Portrait Display
Built-In 50,000 Counts DMM
30,000 Consecutive Waveform Records Logging Function, Replay Measurement Results in Any Time
Temperature Measurement and Logging Function
Built-In Engineering Calculator, SMD Resistance Coding, Color Coding Info, and Attenuator Calculation Application Software
Optional Differential Probe to Achieve Isolation Effect
Let's quickly get on with the unboxing!

We like what the engineers think when they design the packaging. Yes very sexy to us too indeed. Gwinstek engineers' sense of humour resonates with us.

Can't wait to find out what's inside! All are neat and tidy. Nice, neat engineers make great engineers.

Hello, sexy. A typical DMM layout. Side view with the DC-jack, a 2V reference square-wave generator and mini-USB connectivity and the power ON/OFF button.

Oh yes. Fancy boot-up graphics. It's a very succinct interface, all the layouts, and readouts all in one GUI. The bottom right box is actually the trend overview of the larger graphic plot.

The full package. Power adapter, oscilloscope and DMM test leads, carry-strap and bag and documentation.

DMM tips are CATIII-rated and have a good feeling about them. Very assuring. They used a FLUKE 5500A and a FLUKE 5820A oscilloscope calibrator to calibrate this baby! Smells like quality.

The first test. 5V DC into the inputs. Our precision Agilent 34460A 6.5 digit multimeter reads a 5.0003v DC (99.994% accurate), the bench oscilloscope is a little off a 4.97V (99.2% accuracy),  and the Gwinstek GDS-307? An incredible 99.998% accuracy. Now I am not sure which one to trust, the Agilent 34460A. Or the new Gwinstek? It doesn't really matter; assuming the Agilent is the true DC reading, the Gwinstek is still (5.0001/5.0003 = 99.996% accurate), good enough for most intent and purposes.

The oscilloscope leads go to the top. Light pink and blue marking bands are a nice touch.

10Mhz from the function generator and the readout on the Gwinstek. Another aperiodic waveform from the function generator on both our bench Agilent DSO-X-2014A and on the Gwinstek. Everything looks as expected.
That concludes this brief product un-boxing and we're looking forward to happy days with this little fella.
A video on its functionality and operation here
Build the future!